HEC Scholarships 2021-2022 for undergraduate students in Pakistan under the Ehsaas Program are now open for Registration.
CEO of Ehsaas program Sania Nishter took to twitter to announce the date. Students from all the Government Universities can apply for Ehsaas Undergraduate Scholarship. This program was started by the prime minister of Pakistan Imran Khan in 2019-2020. Last year a total 50,000 students were offered the scholarships among them 50% were for girls only. In this article we will discuss the details and how you can apply for ehsaas undergraduate scholarship 2021-2022.
| | |
| --- | --- |
| Name | Ehsaas Undergraduate Scholarship |
| Offered by | Govt of Pakistan |
| Under | Ehsaas Program |
| Start Date | 1 November 2021 |
| Last Date | 30 November 2021 |
| Total Scholarships | 50,000 |
| Eligible | Family income less then 45,000 |
| Amount | Complete Fee + Hostel dues |
| Universities List | Click Here |
Last Date to Apply for Ehsaas Undergraduate Scholarship is 30 November 2021.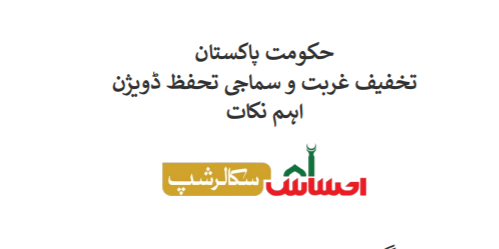 Ehsaas Scholarship Program
This scholarship program is a part of Imran Khan Government's flagship program "Ehsaas".
It was started by the khan in 2019 and there are a total of 30 plus schemes working under this one Ehsaas. As by name Ehsaas Undergraduate Scholarship it is very much clear that it is for the students who recently got admission in universities after completing their college. But only the students who are studying in the Govt Universities are eligible for this.
Many students who want to do something by studying hard only have to quit the studies because their parents cannot afford the fees and this is very heartbreaking. But now with this ehsaas undergraduate scholarship program there is a hope for these students. Same like last year, this year another 50,000 students will be selected, 25000 for boys and 25000 for girls. So if You are a needy student or you know anyone who is deserving you must share this information with him/her because ehsaas hec gov pk portal will be open only for 30 days and after that no application will be entertained.
Details in Urdu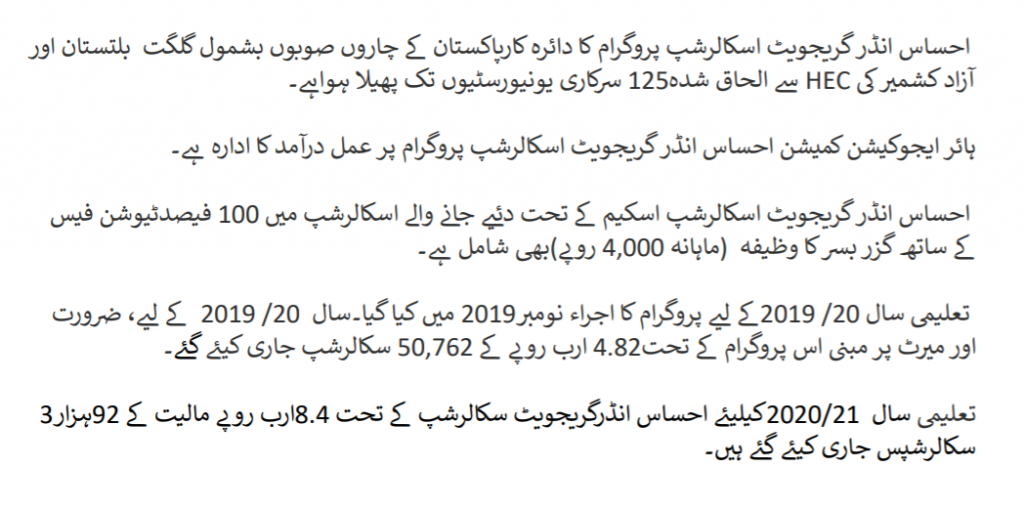 Ehsaas hec gov pk apply online
The registration for ehsaas scholarship is started and students can apply online by making an account at hec gov pk. HEC stands for higher education commission of Pakistan and it is responsible for all the university degrees. First you have to register on the HEC official website which is very easy, all you need to do is provide the correct information according to your educational documents.
After making the account and login you will see the page ehsaas undergraduate scholarship 2021 online apply, by clicking on this it will take you to a new page where all the necessary information will be asked to fill. Remember one thing in mind while filling the registration form, all the information which you will provide will be verified by the university and HEC so don't even try to lie about anything. If you put the wrong info and they found it then you will be banned and maybe you have to face consequences.

If you want step by step details on how to apply for ehsaas scholarship, click here.
Eligibility Criteria for Ehsaas Scholarship
This is a nationwide program and anyone from any part of Pakistan can apply. But there are some requirements to fulfill. Only those students who will pass the eligibility criteria will be selected for ehsaas scholarship program.
Monthly income of your family is under Rs. 45,000
students of government universities
Enrolled in 4 year undergraduate program
Scored good marks in last examination
Not getting scholarship from any other organization or university
احساس انڈرگریجویٹ سکالرشپ پورٹل تعلیمی سال2021/22کی آن لائن درخواستوں کیلیئے 30نومبر تک کھلا رہے گا۔ مزید تفصیلات اس معلوماتی ویڈیو میں ملاحظہ کریں۔#EhsaasUndergradScholarship pic.twitter.com/lA5xLBIpHH

— Ehsaas (@Ehsaas_Pk) October 31, 2021
Ehsaas Undergraduate Scholarship Universities list
Here is the complete list of all public universities which are eligible and the students of these universities will get the ehsaas scholarship.
Click Here to see the List of Universities come under Ehsaas
If the main campus is included in the list it means all of its sub-campus are eligible. If You want to download this list Click Here