Prime Minister Imran Khan announced Ehsaas Rashan madad 30% discount on aata, daal, ghee for 2 crore families across Pakistan. Rs 1000 will be provided to every family every month. All this will be provided under Ehsaas Rashan Madad Program.
Ehsaas Rashan Madad Program
Ehsaas Rashan Madad is a program to relief the poor in view of current hike in prices of daily usage necessities. PM Imran Khan Launched this while he was talking to the nation about current economic situation of country he announced this package. He said total 2 crore families will get benefit via this package. If we count by person total 13 crore people will get relief under this program. For this huge relief program the Government allocate the budget of Rs. 130 Billion. Initially this package is for up coming 6 months. But he said as our tax collection is increasing so we definitely will extend this until the prices go down.
30% discount relief Package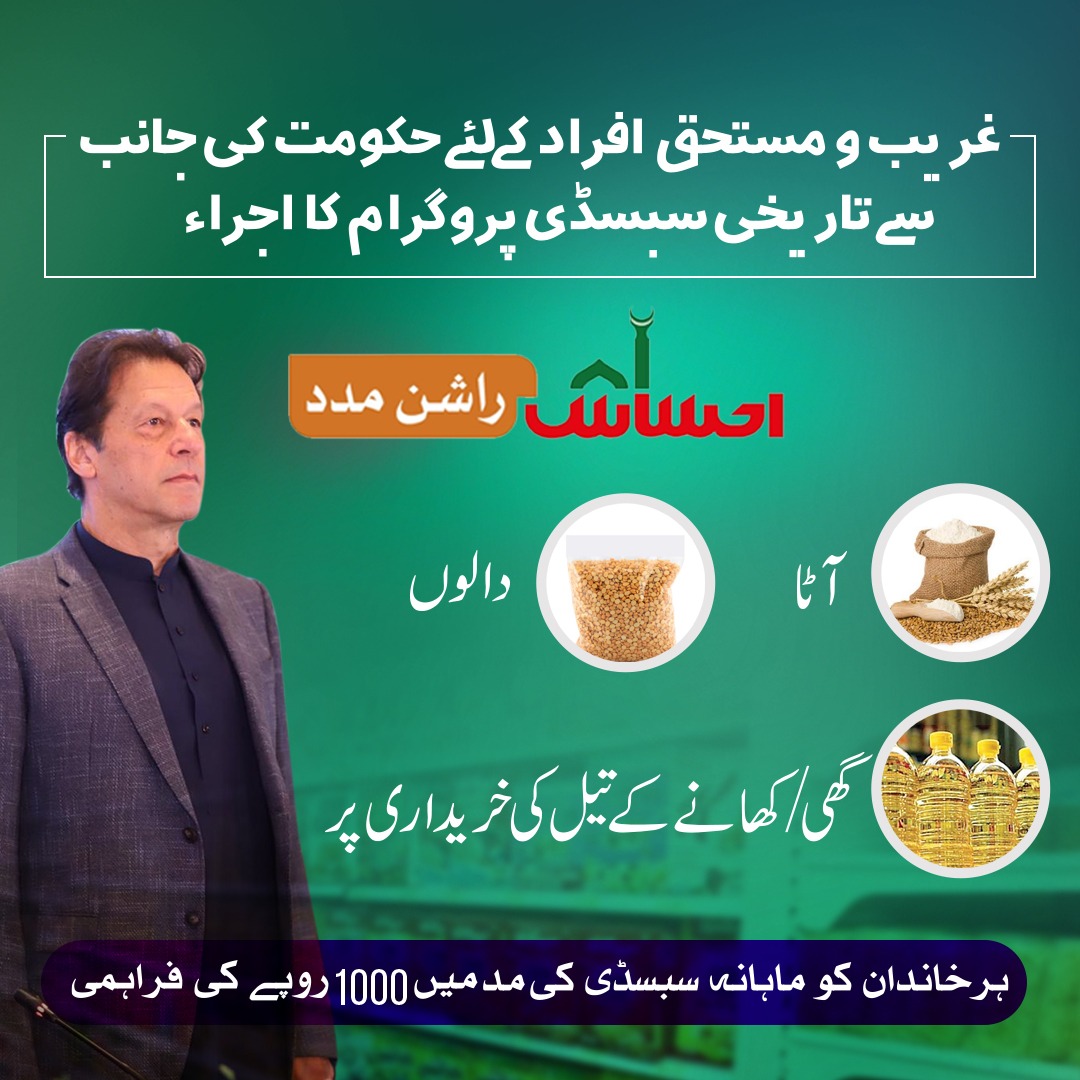 Federal and Provisional Governments will work and contribute collectively in the package.
| | |
| --- | --- |
| Announced by | Imran Khan |
| Budget | Rs. 130 Billion |
| Duration | for 6 months |
| Payment | Rs. 1000 every month |
| Under | Ehsaas Program |
| Discount on | aata, dal and ghee |
| How many people will get relief | 2 crore families or 13 crore people |
ehsaas rashan madad 30% discount relief Package details
This is a huge relief package by the Govt of Pakistan for needy people and it is on right time as country is facing highest inflation in past 10 years.
Information minister Fawad Ch and Shehbaz Gill hinted about this package in their pressor last day. And today PM imran Khan announced it in his speech.
Ehsaas Program
Imran Khan also spoke about the success of ehsaas program as it is the single largest relief program in the history of Pakistan. He said people already getting the benefits under this Ehsaas and now they will get extra 30% OFF discount on the daily life edible things like aata, dal and ghee.
Kamyab Pakistan Program
He also mentioned about the Kamyab Pakistan Program. Here is we wrote complete article about Kamyab Pakistan Program.
KPP is a combination of 5 small programs which basically provides the interest free loans to the eligible people to help them in their business, Farming, Scholarship for Studies and to make people able to get health benefits from different hospitals when needed.
All Provinces of Pakistan including Azaad Kashmir and Gilgit Baltistan are part of this scheme.
How to register Ehsaas Rashan Madad Program
The Government of Pakistan setup an online portal to get online applications for Ehsaas Rashan Madad Program.
Here is the link to official portal rashan.pass.gov.pk
CEO of Ehsaas Program Sania Nishter told that the portal will go online within the week to get accepting applications.
Step by step process for rhsaas rashan
The maximum discount of Rs. 1000 will be given per family every month only on ghee, aata, dal etc. So after registration with this rashan program
You go to a shop
After purchasing you will get OTP on your registered mobile number
The Shop Owner will enter the OTP in Ehsaas portal
After the verification you will get 30% discount.
For example if the Oil price is Rs. 300 per Kg then after discount you only have to pay Rs. 210 per Kg
300 – 30% = 210
As the Prime Minister Khan said in his speech that the discount and relief will be provided to the door step of the people and the people will get direct discount on these things while shopping from any shop.