The Government of Punjab announced 100000 jobs to fill the empty seats in Police, Education and health departments.
This announcement was made by the special assistance to punjab chief minister Mr. Hassan. He said that the CM Usman Buzdar ordered the relevant departments to publish advertisements as soon as possible to fill the empty seats in these departments. This issue was pending since long and finally it will be solved. He also said to look into the matter of delays of salaries and from now on there should not be any delay in it.
The number of jobs categories wise will be discussed here.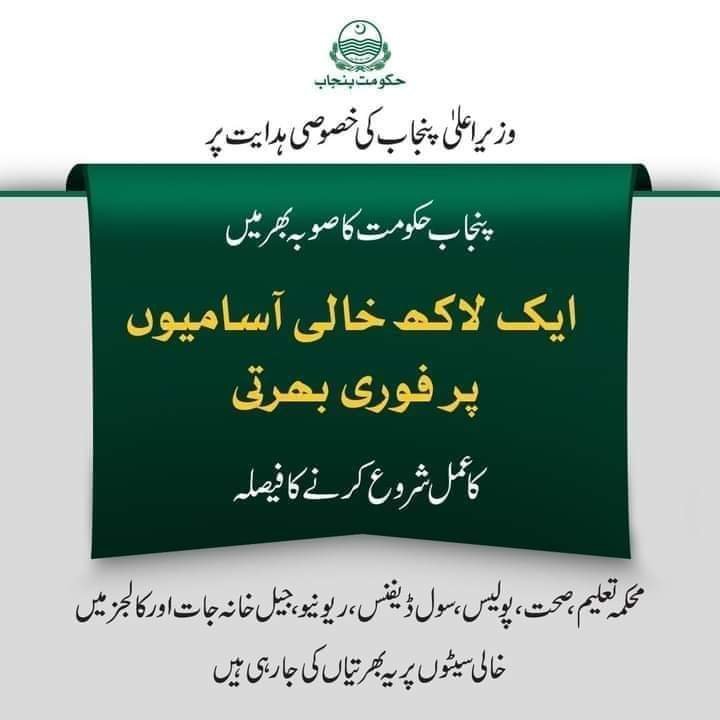 Govt of Punjab 100000 Jobs by departments
Here is the list of jobs by Punjab Govt according to the number of seats in each departments.
| | |
| --- | --- |
| Department | Number of jobs |
| Education | 33,000 |
| Police and Border Military Police | 12000 |
| Primary Healthcare | 1200 |
| Specialised Healthcare | 2900 |
| Higher Education | 2600 |
| Civil Defence | 1200 |
| Prisons Department | 4300 |
| College Teachers | 3500 |
| Patwaris | 4800 |
Punjab Govt Jobs by Departments
Recruitment Dates of these jobs
As of now the CM ordered the departments to prepare the job openings and announce the advertisements. So the exact date to apply and the last date is still not confirmed. But it will be announced within the week.
The ads of these jobs will be published in national newspapers as well as the official websites of these departments.
Also we will update the post as soon as we will receive the new information.
PM Imran Khan 1 crore Jobs
We know the Prime Minister Imran Khan told the nation about giving 1 crore jobs to the youth when he was campaign for Pakistan Tehreek Insaf in 2018. But after that he and his ministers told many times that Government is not able to provide the direct 1 crore jobs but Govt is providing the easy environment to for business and these business will create employments. For this Government has started many interest free loan schemes. Along with all the Govt Jobs opening are also being made like this recent 100000 jobs opening by the Govt of Punjab in different departments.