Insaf Academy is an online learning platform introduced by the Government of Punjab. Its main objective is to eliminate the expensive tuition system from the education system. Generally, it has been observed that after school or college, students often need tuition and taking advantage of this private tuition academies charge higher fees etc. Insaf Academy is a revolutionary step taken by the Punjab Government to save students from this hassle and provide free access to all necessary educational materials for exam preparation. Easy and simple video lectures, tests, exercises etc. Prepared by the best teachers of various subjects from across Punjab can be accessed for free.
Insaf Academy Details
| | |
| --- | --- |
| Name | Insaf Academy |
| by | Govt. of Punjab |
| for | Students of 9th, 10th, 11th, 12th |
| fee | no fee, its free of cost |
| website | insafacademy.pctb.pk/ |
insaf academy details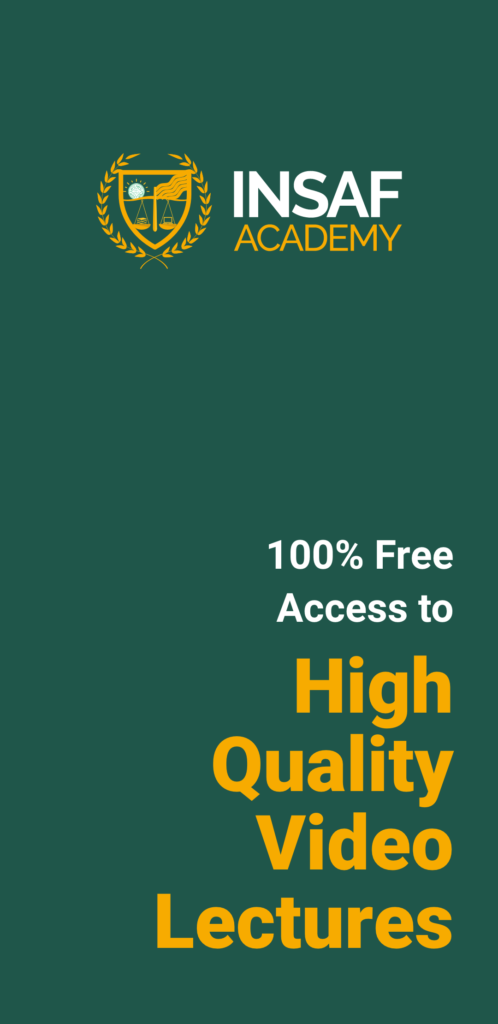 انصاف اکیڈمی ایک آن لائین لرنگ پلیٹ فارم ہے جو کہ حکومت پنجاب کی جانب سے متعارف کروایا گیا ہے۔ اس کا بنیادی مقصد تعلیمی نظام سے مہنگا ٹویشن سسٹم ختم کرنا ہے۔ عام طور ہر یہ دیکھنے میں آیا ہے کہ سکول یا کالج کے بعد طالب علموں کو ٹویشن کی ضرورت اکثر پیش آتی ہے اور اسی کا فائدہ اٹھاتے ہوئے پرائیویٹ ٹویشن اکیڈمیاں زیادہ فیس وغیرہ چارج کرتے ہیں۔ سٹوڈنٹس کو اس پریشانی سے بچانے اور امتحانات میں تیاری کے لئے تمام ضروری تعلیمی مواد تک مفت رسائی کے لئے انصاف اکیڈمی پنجاب حکومت کا ایک انقلابی قدم ہے۔ پنجاب بھر سے مختلف مضامین کے بہترین اساتذہ سے تیار کرائے گئے آسان اور سادہ ویڈیو لیکچرز، ٹیسٹ، مشقیں وغیرہ کی مفت میں رسائی حاصل کی جا سکتی ہے۔
Classes in Insaf Academy
9th class urdu medium
9th class english medium
10th class urdu medium
10th class english medium
11th class
12th class
How to make Account on Insaf Academy
انصاف اکیڈمی پر اکاوئنٹ کیسے بنائیں

Insaf academy online registration
1: First of all go to the official website of insaf academy. https://insafacademy.pctb.pk/
2: You can also download insaf academy mobile app. The mobile app is easy to use. So i will suggest to go for insaf academy mobile app.
3: After opening the web page or app click on start learning or register.
4: On next page you will be asked to provide your name, father name and email address. After filling all these information click on next.
5: On next page you need to enter your province, your city, your school name and your cnic. Now click on next.
6: Here you will be asked to chose your class. You can chose between Urdu medium and English medium.
After finishing the registration you will be redirected to the dashboard of insaf academy.
What is in insaf academy dashboard
Video Lectures
In insaf academy you can have access to 7000+ video lectures covering all the topics of your selected class subjects in very easy language. After taking these lectures you will not need to go to any private academy for help in your studies.
Mock Tests
For the better preparation of students mock test are also included in this portal. A series of test is to check the preparations of the students. After taking the test students can check their result and correct answers too for better understanding.
Live Lectures
A section of live lectures is also there for students. Students will be told about the live class before the class time so maximum students can attend these classes. Here students can ask live questions to the teachers.
System to track preparation
In insaf academy app there is a whole system which combine all you data to provide you the idea about your preparations for the examination.
Insaf Academy is free of cost

There is no registration fee or any fee for test or video lectures. All the content in this app is free for students.
Along with students parents and teachers also can get benefits from insaf academy. While making the account there is a option to signup as student or as a parent or as a teacher.
Basically this is the project of Punjab government and it covers all the topics given in Punjab text books. But the students of other provinces can also get benefit from insaf academy. Because of topics of science subjects are almost same in all Pakistan so this app will be good for all the students across the Pakistan.
If you have any issue regarding this app you can ask in comment section or you can contact to insaf academy via their provided helpline numbers.